since there isn't sub-forum in tips section and since soul did not know this yet =]
i'm sure many of you know this already, but here it is anyway.
if you look in here:
C:\Program Files\AKInteractive\Great Merchant\fnt
or where ever your GM is installed and the file called 'fnt'
this folder is where most of skill effect and monster picture things are stored.
first let's make a copy of fnt folder in case you don't like the new effect and wanna change back to the old.
now, just to keep everything organized and have record so you know which you changed to which in the future, make another folder called 'change' inside the backup folder.
to change the effects, you simply need to change the Spr files around.
For example, let's try sunmo's half fire nova.
the original Spr file name for sunmo's skill is:
kimbomb1.Spr
from the original Fnt folder, drag this into the change folder(change folder is inside backup folder).
now, pick any other skill effect you want to be the new firenova and simply change the name to kimbomb1.spr
for example, I wanted a clear vision within the nova so i changed mine to DetectMine.Spr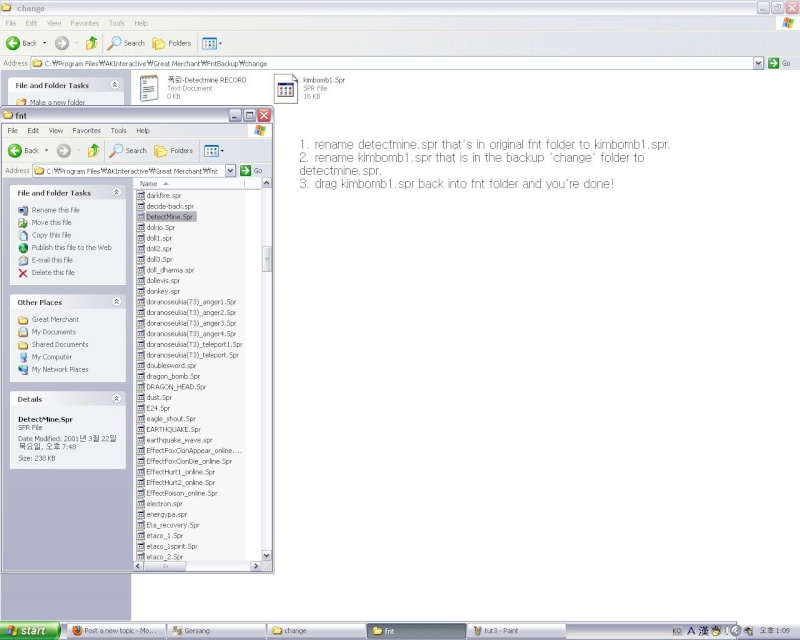 one thing to remember is close GM client before you do this ~.~
(your GM client has to be turned off before doing this)
have fun switching them around ~